January 22nd, 2017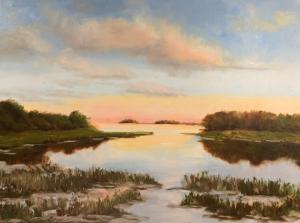 I am back on Cape Cod and painting once again! This site, which allows for prints of my work in various sizes, is now updated with new images. I am also working on the new year's collection of ideas just waiting to be painted. Look for more beaches, boats, boys & girls on the shoreline, and of course, the still life works based on flowers I grow in my own gardens! Between now and early May there should be many new works to discover! Come back often and thanks for looking!
June 15th, 2011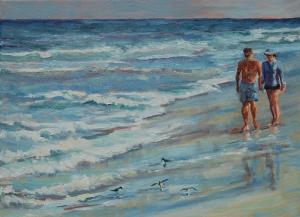 It's the middle of June, the weather has given us some brilliantly sunny days, and I am painting as fast as I can! Happily, I will be out with my painting pal, JoAnn Ritter, on Cape Cod next week painting in the coves and inlets that harbor sailboats and dinghies along Brewster and Chatham coastlines.
Right now I'm painting beach scenes like the one above to ready my brain and my palette for the rigors of outdoor efforts.

By Friday of this week, I will have more beach scenes hanging at my new gallery, Lemon 'N Lyme, at 19 Halls Road, Old Lyme Shopping Center, Old Lyme, CT 06371. It's just a short hop from the exit of I-95 in either direction.

Meanwhile, back here in CT I am thrilled to report that my 30'x36" painting, "Passing Shower," a view of the Lyme Land Conservation Trust's property on Grassy Hill Road in Lyme, was juried into the very-big-deal summer show at the Lyme Art Association. That exhibit is called "Landscapes of Old Lyme: In the Footsteps of Our Founders," an homage to the artists who founded the art association in 1914.

These now-famous artists included American Impressionist painters Gifford Beal, Louis Paul Dessar, Childe Hassam, and Willard L. Metcalf joined with Will Howe Foote, Henry Rankin Poore, Allen B. Talcott, and Carleton Wiggins in the early exhibitions of the Association. The Lyme Art Association gallery was the culmination of seven years of planning by artists Frank Bicknell, William Chadwick, Harry Hoffmann, Wilson Irvine, Lawton Parker, William Robinson, Edward Rook, and Gregory Smith.

The building site was adjacent to Miss Florence Griswold's Late Georgian mansion, today a renowned museum of American Impressionism , where many of the artists gathered each summer season. The land was purchased from Miss Florence in 1917.
The building committee chaired by Lawton Parker, worked with architect Charles A. Platt, designer of the Freer Art Gallery in Washington , D.C. and the Lyman Allyn Museum in New London , CT.
April 16th, 2011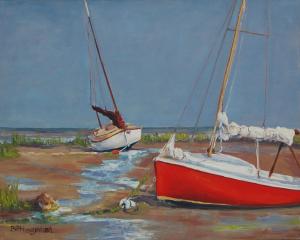 It finally feels like Spring and I've started to outfit my van for the plein air outings I've got on my list! While this scene of Cape Cod Bay at low tide kept me feeling warm sand on my toes, I am also looking to all of the lovely Connecticut scenes that I have at my new doorstep. With an entirely new array of places to paint in Connecticut I'm going to be busy for a while! Farms, especially the sustainable agriculture farms owned by local farmers are one venue. Newly discovered conservation land trails in Colchester, Lyme, and Old Lyme have been added to the list. Cape Cod is still high on the list of my painting retreats.

On April 30th I'll be joining other artists for the "1st Annual Grassy Hill Conservation Area Paint Out." The spot was a favorite spot for early Connecticut Impressionists who stayed at the home of Florence Griswold. Look for more information about the exhibit that will follow the paint out at this link: http://www.lymeartassociation.org/ Watch for the new works!